Parents In Italy Are Delighted With The Growing Number Of Helen Doron Early English Learning Centres For Children Blossoming Throughout The Country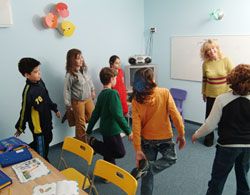 More and more parents in Italy are insisting on their children learning English before they even start school. Perhaps this could explain the mounting success of the Helen Doron Early English Learning Centre franchises expanding rapidly throughout Italy.
London, UK (PRWeb) October 16, 2008 -- Anne Gordon, VP of Business Development for the Helen Doron Educational Group, discusses how well the program suits the Italian market. "Since 1985 children the world over find learning with Helen Doron Early English irresistible, and the parents and children in Italy are just as keen.
The Helen Doron method and materials teach English in a fun, exciting way, which really complements the natural curiosity and exuberance of children in Italy."
"There is so much interest now in early English education in Italy, and an increasing country-wide recognition of Helen Doron Early English as the best solution to provide it," explains David László Conhaim, International Sales Manager at the Helen Doron Educational Group. "Today our Learning Centre Franchises cover 15 regions in Italy, including San Marino, with more in the pipeline." At the upcoming International Franchising & Trade Show in FieraMilano, Italy, 17 - 20 October 2008, Helen Doron Early English will be offering a wide range of English learning programs with an emphasis on spoken English. The company will occupy booth F02, Pavilion 9 in the new Rho building.
Anne Gordon relates that the introduction of Helen Doron Early English in Italy began in earnest in 2004, with the signing of the first Master Franchise for the regions of Tuscany and Umbria. The franchise has since expanded steadily to the following regions; 2005 - Veneto, 2006 - Emilia-Romagna, 2007 - the Republic of San Marino, Lombardia, 2008 - Piemonte, Valle d'Aosta, Liguria, Le Marche, Abruzzo, Molise, Campania, Sicily and Lazio. Anne Gordon is enthusiastic about the future. "We are excited to see the sale of more and more franchised regions in Italy and with it the Helen Doron brand gaining widespread popularity, much the same as it has in other European countries. Our Italian franchisees are extremely encouraged by this volume of growth, and proud to be part of the Helen Doron Early English franchise family."
Anne tells of one such success story. "Within 6 months of opening her new Helen Doron Learning Centre in Milan, Master Franchisor Lorenza Gamberini had to relocate to larger premises because of increasing demand - even though Milan is one of the most competitive cities for language learning centres." Lorenza, who has sold 3 Learning Centre franchises in her first year as a Master Franchisor, is very encouraged by the results. "Student turnover continues to grow with more than 80% of the students from the last year booking places for our continuation English courses: this is greatly satisfying for me and my teachers!"
The Helen Doron educational system offers an exclusive 'mother tongue' approach to early English language learning coupled with innovative activities, unique learning materials, and small group attention. Helen Doron Early English Learning Centres provide a quality age-appropriate curriculum suited to every child; from 3 months up to 14 years. Only Helen Doron Early English features highly trained dedicated teachers using a creative mix of fun language tools, original music and songs as well as activities that stimulate both right and left-brain hemispheres for better all-around learning and improved memory skills. In operation since 1985, Helen Doron PRWeb eBooks - Another online visibility tool from PRWeb Early English is currently franchised in 25 countries worldwide and is expanding rapidly.
Find out more about all the quality Helen Doron programs available for children:
www.helendoron.com - Helen Doron Early English: 3 months - 14 years
www.supernature1.com - Super-Nature: School program English through nature for large groups, grades 1- 3
www.mathriders.com or www.mathriders.co.uk - MathRiders: maths tutoring ages 4 - 18 years
www.ready-steady-move.com - Ready-Steady-Move: School program: Language through movement ages 4 - 8 years
www.englishpolly.com - Polly the Collie: kindergarten program: English for large groups
SHARE: